Together Against Deceptive Design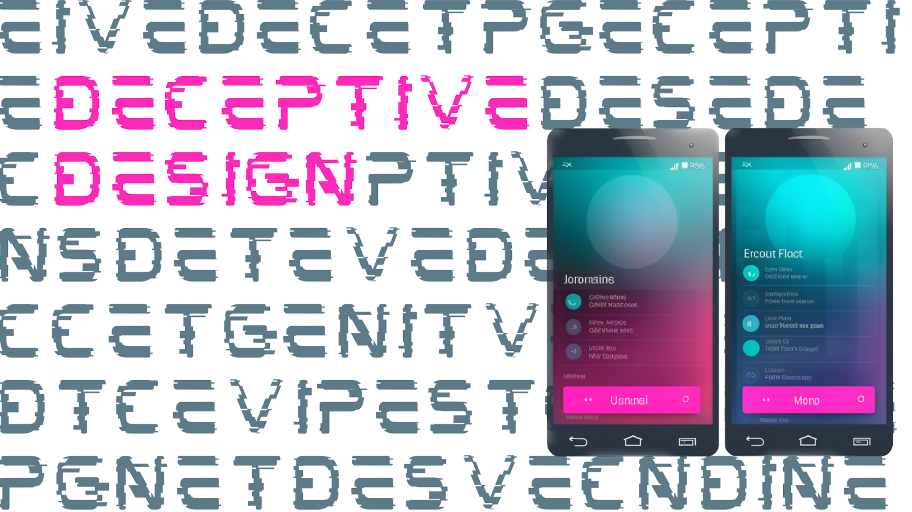 Deceptive design, sometimes referred to as Dark Patterns, is not just an inconvenience, and is far more than a consumer protection problem. Deceptive design is a human rights issue that disproportionately harms marginalized people with fewer resources.  Beyond financial loss, deceptive design limits consent and autonomy online, invades privacy, and causes negative impacts on mental health. 
In partnership with the World Wide Web Foundation and 3x3, we facilitated a series of workshops with global participants to explore ways of combating deceptive design and promoting trustworthy products and services instead.
We are pleased to announce the result of this work: Deceptive Design: Moving Towards Trusted Design Patterns which outlines the challenges - including the global harms - and opportunities to combat deceptive design for technical and design teams, policy makers, regulators, academics, activists, and journalists.  The recommendations are organized into five key opportunity areas to leverage as we move from the unacceptable status quo of exploitation and manipulation towards a better future of trusted design patterns.
A Global Problem With Patchwork Solutions
In this work, listening to both harms from, and successes in, combatting deceptive design from experts around the world, we heard how different cultural expectations and regulatory contexts make a one-size-fits all approach unrealistic. Adedolapo Evelyn Adegoroye and Victoria Adaramola from TechHive Advisory highlighted regulatory fragmentations:
"Many digital platforms either operate or aspire to operate across countries and continents. Thus, fragmented [regulatory] frameworks make it more difficult and less enticing for tech companies who operate cross-country to comply. The regulator should develop operational guidelines, codes of ethics, and best practices for UI/UX designers, tech associations, software engineers, digital marketers, and tech companies." – in Tackling Deceptive Design Across the African Continent
We did learn about opportunities to translate positive changes in one region and apply them to other regions. For example, the European Union is hard at work on policies to combat deceptive design: the Digital Services Act (DSA) and the Digital Markets Act, both approved by the European Parliament in July 2022, have the aim of ensuring consumer rights online. As Dr. Jen King writes in Tech Policy Press: "In terms of fighting manipulative algorithms, the DSA goes where so far, U.S. regulators have yet to tread." 
Superbloom acted as a conduit and amplifier of these emerging opportunities to adapt practices that work well in one region to apply to other regions in order to protect more people from the harms of deceptive design.
How Do We Combat Deceptive Design?
In collaboration with our workshop participants, our partners at 3x3 and at the World Wide Web Foundation, we developed strategies for change to shift the tech ecosystem away from deceptive design and towards trusted design. These opportunities were developed collaboratively, as a result of hours of discussion with 117 stakeholders from 31 countries. Workshop participants included regulators, researchers, governmental officials, activists and advocates, professional association leaders, employees at tech companies, and academics. We are pleased to share this synthesis with participants and the greater community.

1. Build A Coalition To Mobilize Change
Our first opportunity area for combatting deceptive design is coalition building. During the course of our workshops, it became clear that the space we were holding and facilitating was in itself a valuable asset in the fight against manipulative design patterns. During our workshops, we heard from participants that sharing challenges and best practices across regions is beneficial, and there is an appetite for doing even more. We propose formalizing this format into a coalition of stakeholders with diverse backgrounds to: 
Develop best practices and policy guidance to pave the way for implementation at the national level
Advocate for the application of Trusted Design Norms into a range of regulatory and design frameworks
Develop an open process for validating and evolving the Trusted Design Norms
For additional details, including a coalition-building road map, please refer to the TPDL website. We welcome your participation, as an individual or as an organization; message us to join the coalition and receive updates on our process and convenings.
2. Create A Crowdsourced Reporting Tool
Building on The Dark Patterns Tipline, we see an opportunity to gather information about deceptive design for several purposes. Documenting deceptive design patterns is a necessary step towards building awareness, giving activists, journalists, and researchers the real-world examples they need to illuminate the issue and its scope. A reporting tool can communicate a common, understandable understanding of the impact of deceptive design. The collected reports can help regulators understand the problem and potentially become evidence for strategic litigation. Toward that end, the TPDL Deceptive Design website explains opportunities for regulator and researcher workflows to complement the experience of reporting harms by web users.
3. Launch A Storytelling Campaign
The harms of deceptive design are global, and impact young people in resource-constrained contexts far from offices where policies are crafted. An advocacy campaign fueled by youth activism tools, such as video shorts can inspire culture change. The Pravana Institute's Design Beyond Deception work is one exciting example. Our workshop participants were particularly interested in centering neurodiversity and building a culture of care. We heard opportunities for global voices with regional representation to curate and surface content. Ideas for structuring a collection of global stories is available on the website.
4. Develop & Adopt Trusted Design Norms
Synthesizing the discussions in the workshops, we produced a prototype set of resources documenting trusted design norms and best practices. A crowd-sourced reporting tool building on the Dark Patterns Tip Line describes what not to do, but what does trusted design look like? These resources bridge that gap by giving concrete information about what to do instead.
In the Trusted Design Norms section of the website there is an embedded slide presentation covering
Principles for Trusted Design

Build for at-risk communities first, such as youth, seniors, economically disadvantaged people, those outside the Global North
Deliver user agency and control
Free people from cognitive burdens

Examples found in practice to emulate

Discussion guides and organizational assessment questions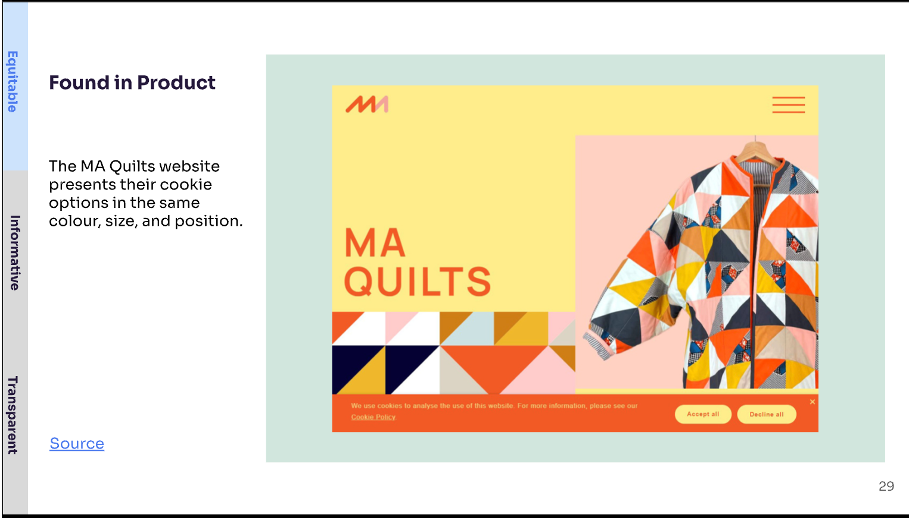 Image: the principle of equitability found in practice on the website for MA Quilts.
In addition to these guidelines, we synthesized recommendations from workshop contributors and a task force led by Sage Cheng of Access Now into a database of recommendations sortable by teams/discipline (e.g. user research, visual design), product areas (e.g. onboarding, errors), and guidelines (e.g. equitable, transparent).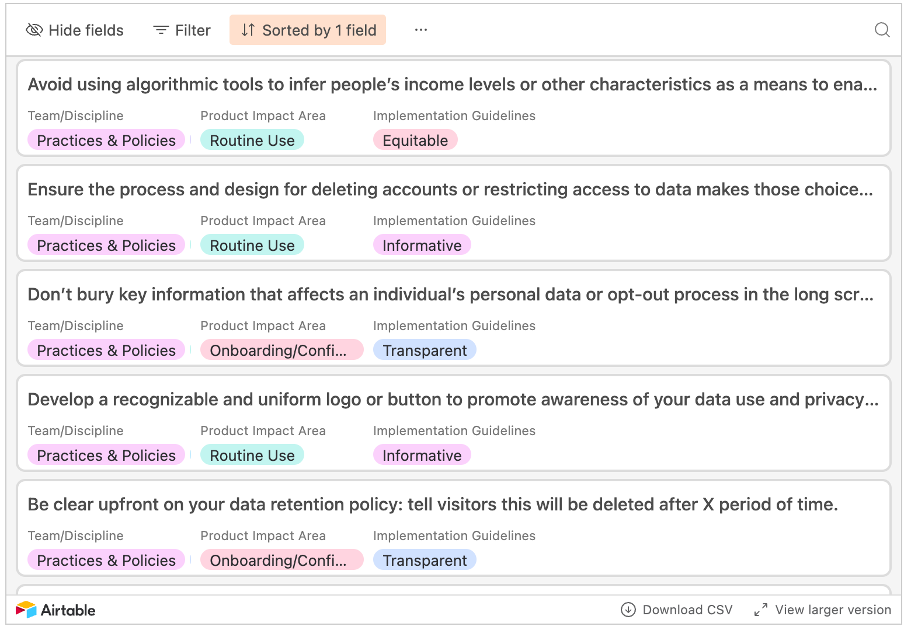 Image: Please explore the collection of 57 recommendations for trusted design in Airtable.
5. Develop Tools For Evaluation & Accreditation
Bringing together a global group of stakeholders in our workshops underscored the need for an independent body to coordinate standards for trusted design. We also see opportunities to build accreditation programs to support the move towards trustworthy design patterns.. It is imperative that this framework and accreditation program be created with meaningful inclusion of global majority stakeholders. For more details about how this might work, including self-assessment questions for developers, regulators, and researchers, please refer to the TPDL Deceptive Design website. 
Get Involved
We need your help to build a trusted, rights-respecting online world as we pilot a multi-stakeholder working group to combat deceptive design and invite individuals and organizations to join the growing network of activists, policymakers, and technologists advancing trustworthy design.
Contact the team to get involved.
Credits
Our thanks to the World Wide Web Foundation, particularly to Kaushalya Gupta and Katherine Townsend for their leadership; to Sage Cheng from Access Now; to Megan Marini and Janice Dean from 3x3; and to all our participants and collaborators. Without them, this work would not be possible. 
Header image screenshots created with Midjourney.