User Research
What do people need? What do they want? What can they use?
Any project – whether it's still a broad concept, or whether it's already a robust product with a large user base – needs to know the answer to these questions in order to have an impact.
We can help you uncover priorities, make sense of contradictory feedback, and articulate a clear design direction for your project. At the end of each phase of our work together, we deliver a design synthesis report, with quotations, examples, and concrete recommendations.
Our deep expertise in multiple methods for fieldwork helps us craft a custom research program to address your team's priorities. We use a variety of methods, both in-person and remote, including:
Cognitive walkthroughs/think aloud protocols
Semi-structured individual or group interviews
Surveys, questionnaires, card-sorting, and prioritization exercises
Feedback on low-fidelity prototypes, including paper
Diaries and prompted in situ studies
Workshops, games, and activities for capturing structured feedback
We keep the rights of all research participants front and center, using threat modeling techniques to ensure everyone is treated respectfully and ethically throughout the process. All our research uses a Participant Bill of Rights.
For examples of our past work in this area, see our Mobile Messaging in NYC study and On Trust and Transparency, our research collaboration with Luminate around the nonprofit funding experience.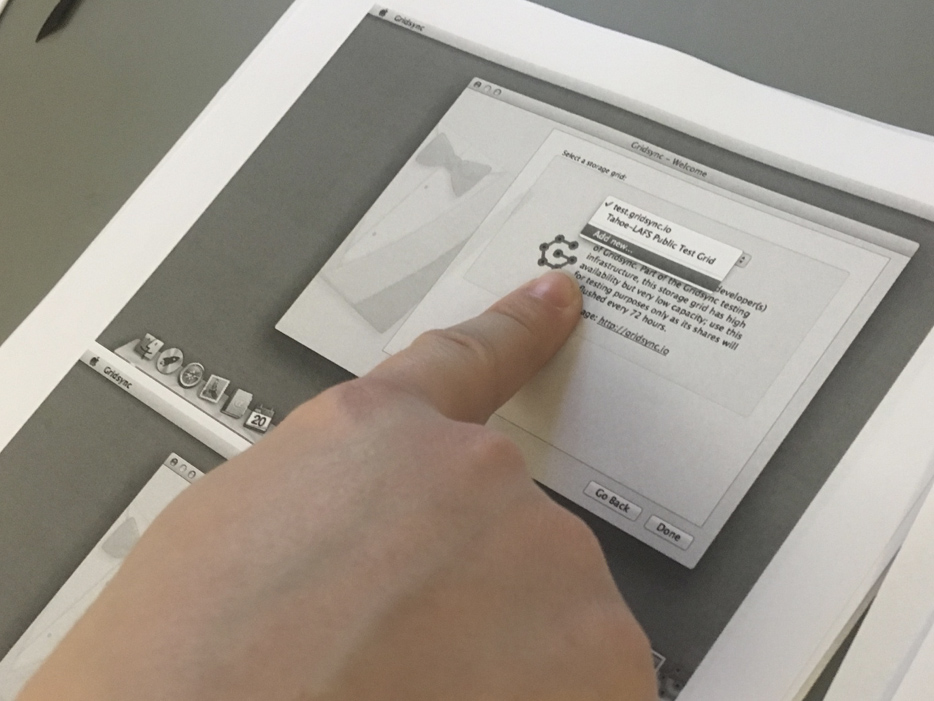 Participant thinking aloud while going through screenshots of the onboarding process for encrypted storage solution GridSync.
Interaction Design
Once we've identified and prioritized what your technology needs to do, we work together on the design. Our process is highly collaborative and iterative; we begin with rough sketches and move on to higher-fidelity digital tools, working closely with you and conducting quick usability tests as we go. Getting feedback from your community is a priority for us, and we gladly share our design work as we go.
Though we dream big, we have a pragmatic approach to design. Many groups we work with work under resource constraints, and often the best design is the one that can actually be implemented. We make design choices that make sense not just for your end users, but also for your team and your development capacity.
We can provide the deliverables that are most helpful to you. That might include:
Information architecture diagrams
Wireframes
Annotated screenshots
Click-through prototypes
Style guides
Visual assets (logos, typography, color palettes, branding)
For examples of our recent work in this area, see our work on NoScript.
We are an educational nonprofit, and it's important to our work that we share what we learn openly with the community. Even when the content of the project needs to remain private, we like to create open process resources, like the interview guide in our resource library. We respect that all teams and projects have different needs around confidentiality, and we will work with you to figure out what parts of our work together make the most sense to make public.