Some Of Our 2015 Favorites
2015 was our first full year in operation, and we've come a long way! Looking back at the past twelve months, here are some resources that we've found to be particularly useful (or entertaining). Let us know your favorites on Twitter!
Ame's picks
Thinking back on 2015, I'm really glad to be part of Simply Secure and for the opportunity to be an evangelist for design. I'm thankful for resources that make design easier.
The Noun Project
The Noun Project is a great resource for icons. They're useful for more than interfaces – I've included them in presentations and posters too. With low pricing for individual icons or subscriptions, as well as options for free attributed use, they're my number one resource for 2015. Easy to search, easy to download, or drag-and-drop directly from the desktop app into Keynote.

Noun Project images are downloadable as .png or.svg formats.
With subscription or purchase, the images are free to modify. Here are some of my favorite modifications from this year: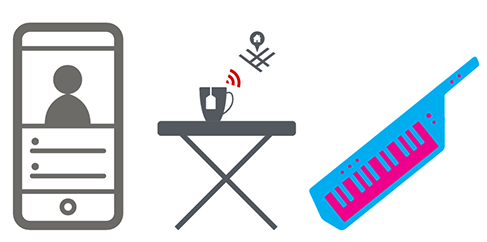 Images left to right: Mobile UI wireframe, assemblage of IoT location tracking, synthwave keytar.
Flickr
Flickr has a nice way to search images licensed under Creative Commons, which I use to illustrate presentations and blog posts, like the Lessons from Architecture School series. (Scout is also a fan of Google's advanced image search options; after doing a search, choose "Search Tools > Usage Rights".)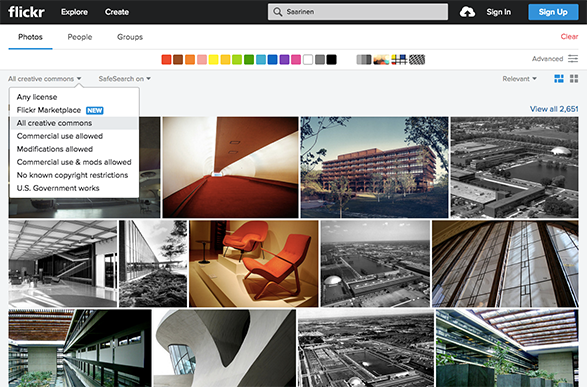 Filtering Flickr search results by Creative Common license.
InVision Blog
InVision makes collaboration software great for teams working remotely on UX projects. The InVision Blog is a consistent source of high-quality, accessible design writing. Here are three recent posts I've found helpful:
Scout's picks
This year was one of tremendous growth for us as an organization; we went from being a group of one to having other staff members and receiving official nonprofit status from the IRS. Here are some of the online resources I've found useful and entertaining, either in my own work or as a support to others.
NNGroup
The Nielsen Norman Group has been a mainstay in the user-experience research space for almost twenty years. They have a great collection of free articles on all sorts of relevant topics, from foundational user-research pieces to gems like this recent comparison of UX design and working in restaurants. They are one of the first places I encourage new researchers check out while exploring the field.
Swift on Security
Lest any of us in security take ourselves too seriously, it's always good to have someone like Swift on Security in our Twitter feeds.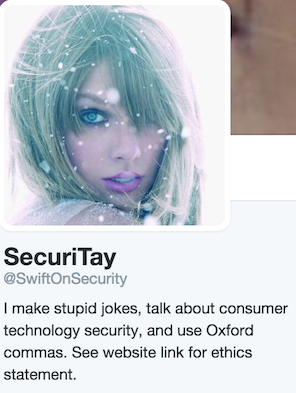 Who knew Taylor Swift was into Oxford commas?
Nonprofit pointers
Setting up a new tech nonprofit in the US isn't always easy, especially given the IRS's recent take on open-source. My #1 bit of advice is to get good lawyers helping you, if your organization can afford it (shout out to the NEO Law Group in San Francisco), or a good law clinic if you can't (for example, check out OTF's new Legal Lab). But I also have found resources like Guidestar and Nolo to be tremendously helpful in understanding the landscape and requirements of organizations like ours.